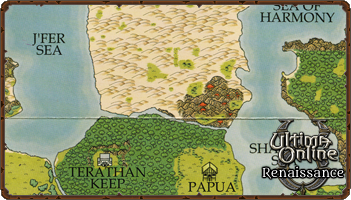 The Followers of Armageddon, an elite group that caused chaos through all of Britannia, had discovered how to use an ancient spell know as the Apocalypse or Doomsday spell. When they used it, massive earthquakes rocked the entire land of Britannia and opened several caves unknown to everyone at the time. Lord British sent an expedition under the leadership of Lord Crawworth to explore the Lost Lands.

The expedition comes back totally devestated and all are dead save the journalist Caitlin Elopidat, but soon dies after giving all her notes to Lord British. Soon after, the Lost Lands are opened to the public to search and discover it themselves. Now, let your adventure begin.
There are currently only two cities in the Lost Lands but they contain all you need for your travels.

Delucia, the City of the New Frontier, is located in the southwestern most corner of the Lost Lands. If you are in need of weapons training, there is plenty of wild game just outside of the city limits. Delucia also has mountains within the guard protection and there is also a local forge nearby. There are also plenty of shops around including an inn, stables, magic shop, and provisioners. The bank and healer are located right next to each other just in case of an unfortunate accident occurs.
Papua, the Swamp City, is full of mosquitoes and mimes (not the ones you see in New York, mimes are Spanish for gnats I think) but in my opinion, has the best structures of houses in both the old and lost lands. The Just Inn is also a great place to sit down and relax and play some checkers. The Tricks of the trade mage shop has a portal connected to another one within Moonglows Encyclopedia Magicka. To use the portal from Papua to Moonglow, the magic word is recsu and from Moonglow to Papua it is recdu. Papua also has a shipwright so you can dock your ship when you decide to visit.